Mobile Crypto Banking
Connect crypto-assets to any of your classic bank accounts in one place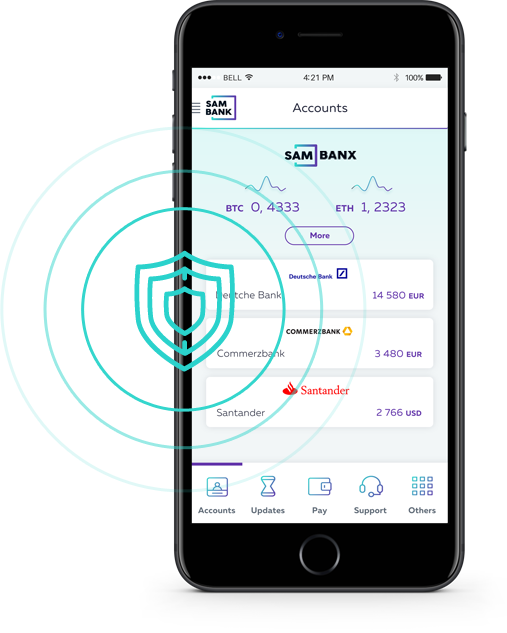 We can add crypto assets to the classic bank accounts of 500 mln of the most powerful consumers in the world
How PSD-2 works?




Connect any EU Bank
to SamBanx
Manage all your
accounts in one place
Make Crypto transfers and
exchanges in seconds
Legal, transparent and top security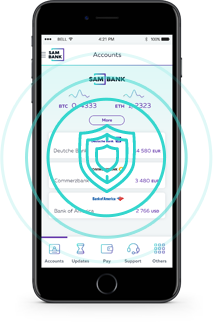 SamBanx will be safe and in compliance with applicable legislation. All of your crypto-assets are in your legal ownership.
SamBanx provides a transparent and ethical service. We will take all necessary steps to comply with applicable legislation. The product beta version will be available in Q3 2018.
Top security: Cold storage. European Parliament Directive 2016/1148 / EC, ISO / IEC 27001 and banking standards in the field of transfer and protection of sensitive data.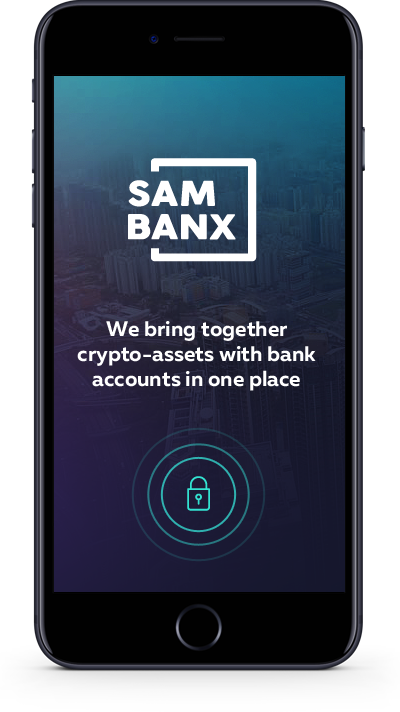 SamBanx Features
Connect any EU Bank Account
Multi accounts: Crypto + Fiat
Debit cards valid at any ATM globally
Online payment gateway for E-commerce
Offline POS and QR terminals for Business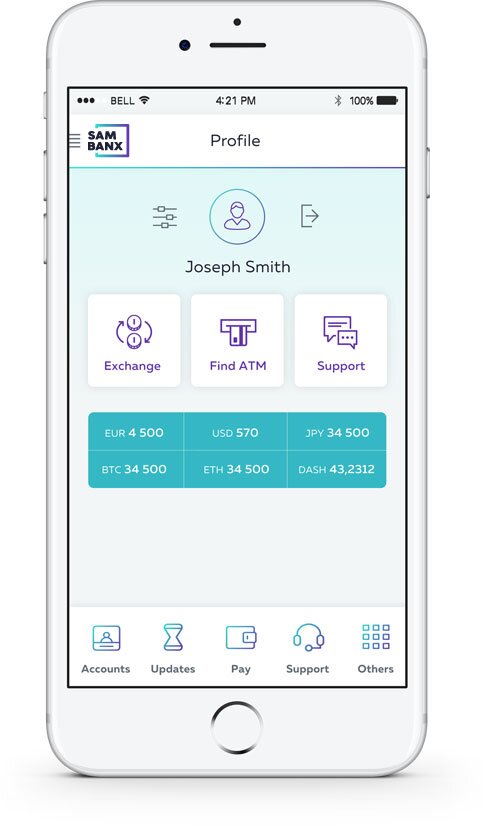 SamBanx Benefits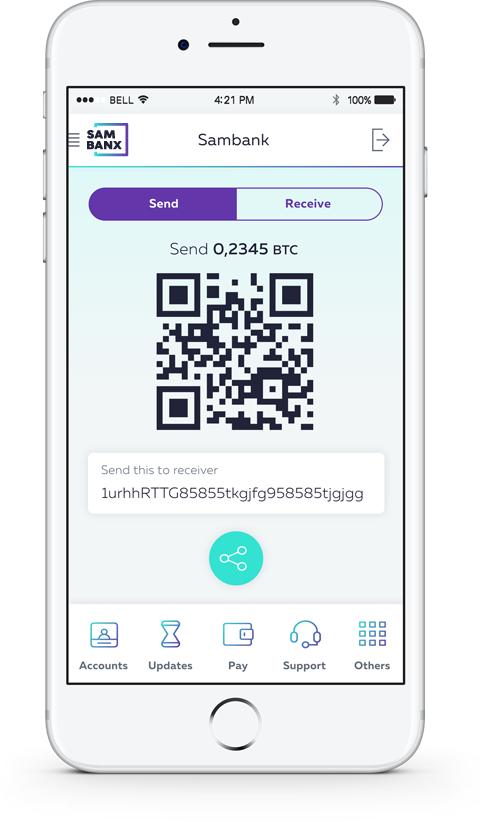 Partner banks in Switzerland and Germany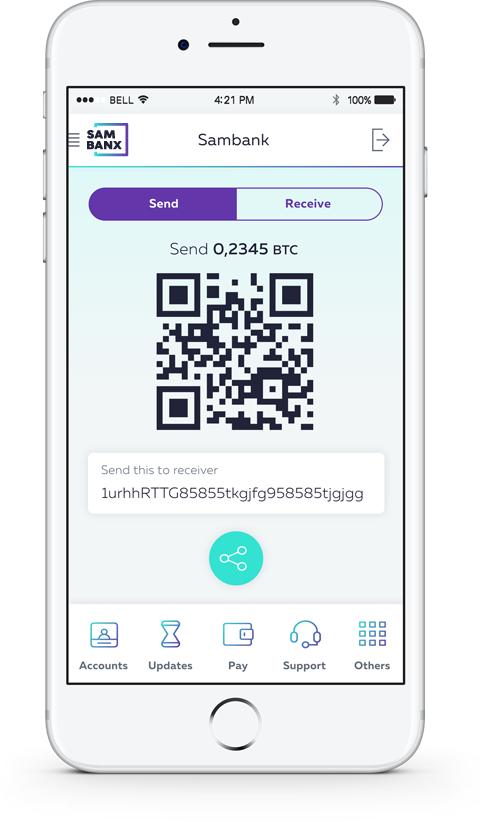 Connect any EU bank with PSD-2

International fiat
and crypto transfers

Best available
exchange rates

Top-level
security solutions

Customer
support 24/7
We fight for the lowest exchange rates on the market
We have developed a unique trading system, which has a real-time connection to 10 top crypto-exchange markets and monitors all available rates. We always know the best currency exchange on the market and give this advantage to our customers
up to 50% discount on fee's using SAM token
Calculate Fees
1,000
5,000
10,000
100,000
500,000
€
Fee with SAM tokens pay
Don't have a bank account in the EU? SamBanx will help you!
SamBanx will have Electronic money and payment institution license and can have internal multi-currency fiat accounts. No EU bank? Just use SamBanx.
If you do not have EU citizenship, but you want to have an EU bank account — we can also help. We can open a bank account with SamBanx's partner bank for you.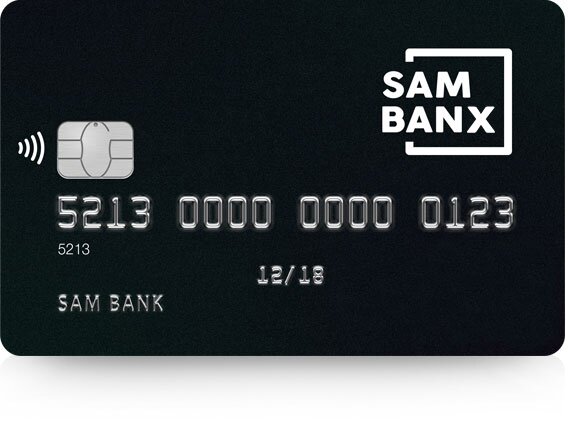 We will provide a Debit Card in cooperation with our partner bank.
Sambanx business services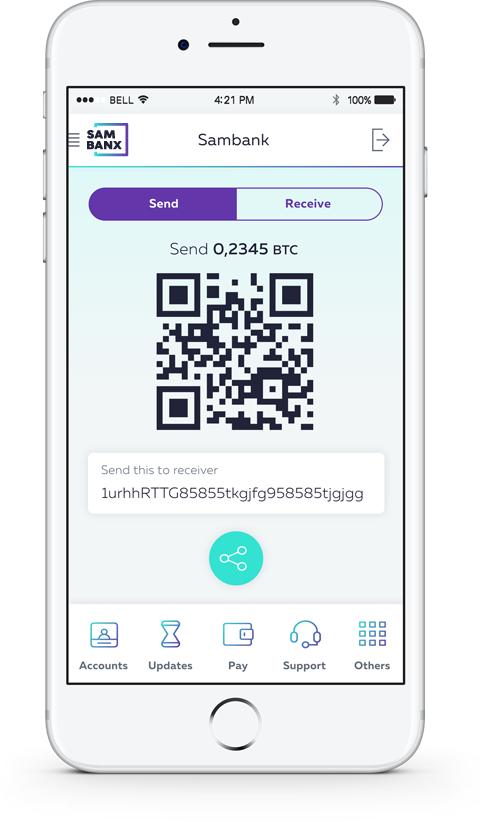 Coupons & Vouchers
We issue coupons and vouchers with Bitcoin value for offline sales. Anybody can go to the post office or supermarket and buy a voucher with the desired amount. Use this voucher in SamBanx to get cryptocurrency at the best available exchange rate.
Online Payments
Online payment gateways for E-commerce to accept cryptocurrencies. Any website can get our API and use our ultimate payment solution: accept payments in fiat money and cryptocurrencies.
Offline Solutions
Offline solutions for shops, restaurants, pubs, barbershops and other places to conveniently accept and manage crypto-payments.
Token Distribution
The base price will be 0.40 EUR for 1 SAM token. The total token supply will be 100,000,000 SAM.
SAM tokens will be issued on August 1, 2018 when SamBanx's beta version is launched.
AirDrop
AirDrop and Bounty tokens will be issued by 5% every month.
Company tokens
Company tokens will be locked in Escrow:
Lock period – 24 months;
After 24 months, 10% of the company tokens will be unlocked each month.
Advisor tokens
Advisor tokens will be locked in Escrow for 1 month;
Any tokens that have not been sold during the token sale will be destroyed.
50%
fee discount with SAM token
EVERY QUARTER
30%
of profits SamBanx will spend for buy back and destroy tokens
70%
of tokens will be destroyed.
30%
will be on the market always
SAM Token Benefits
Discounted Fees
SAM holder can use SAM tokens for paying transactions fees saving
Premium Services
Holders of large SAM amounts (from 5,000 SAM) can benefit from free premium services as long as they are having the minimum required amount of tokens on their account.
Index Crypto Portfolio
Each SamBanx customer who has at least 2,500 SAM tokens on his SamBanx account will have access to SamBanx Index Crypto Portfolio. More info about SamBanx Index Crypto Portfolio you can find in our White paper.
| Package | Silver | Gold | Platinum | Satoshi |
| --- | --- | --- | --- | --- |
| 24/7 Support | | | | |
| Personal manager | | | | |
| Concierge Service | | | | |
| Investment Consultant | | | | |
| SMS informing | | | | |
| Travel Insurance | | | | |
| Special Conditions for big crypto-amounts exchange | | | | |
| Cashback Service | | | | |
| Free cash withdrawal * | 5,000 USD | 10,000 USD | 20,000 USD | Maximum ** |
| Tokens hold conditions | From 5,000 Tokens | From 12,500 Tokens | From 25,000 Tokens | Only 500 biggest holders |
| Card type exchange | VISA/MC Standart | VISA/MC GOLD | VISA/MC Platinum | VISA/MC Black Satoshi Edition |
This is not an offer. This is only example for information purposes.
* USD Equivalent.
** Maximum allowed by SamBanx rules monthly and daily limits.
Roadmap
20 Mar 2014

SamBanx was founded

15 Aug 2016

FinPay released. Mobile payment solution for retail. in Slovenia

10 Mar 2017

Arbitrage system development

15 Sep 2017

Run arbitrage and exchange system

15 Mar 2018

SamBanx private token pre-sale starts

01 Jul 2018

SamBanx public token generation event will start

01 Aug 2018

Beta version of SamBanx will be launched
01 Dec 2018

Full SamBanx release. EMI will be finished. PSD-2 support will be launched

Q1 2019

Debit cards launch, SAM token listings

Q2 2019

Merchant services launch

Q4 2019

1st non-EU bank joins

Q2 2020

Open bank accounts for non-EU residents

Q4 2020

US Bank joins system

2021 and beyond

Exploring the possibilities of introducing credit tools and other banking services